Kaspar the dog who loves singing to owner's bagpipe music
A family dog loves young Poppy's bagpipe playing so much he sings along to her practice sessions.
Poppy, 12, embraced her 50% Scottish roots, and took the unusual decision to learn the bagpipes. She discovered she loved the sound — and so did her family dog, Kaspar, who joins in with his own performance.
Anyone wanting a chance to witness the bagpipe-loving hound in action can go along to the second day of Hurst Show & Country Fayre on June 30.
Poppy's dad Nick said: "Poppy is playing at the show as part of the Reading Scottish Pipe Band youth section.
"We'll take Kaspar along and see if he joins in. Visitors can look out for him, he likes a good sing when Poppy is playing. He's not barking or howling, his 'notes' go up and down.
"I suppose dogs are as different as humans — they do what they do. We've never had a dog before." Kaspar is a super-friendly Schnauzer dog. To be fair to him, in volume terms, he can't drown out the bagpipes.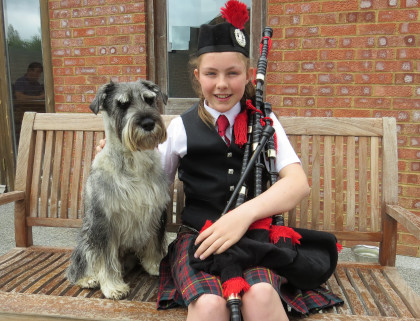 Poppy's parents Nick and Liz are proud of Poppy's playing, even the neighbours have complimented her.
Bill and Lesley Copland of the Reading Scottish Pipe Band recruited Poppy to the new youth section when they visited local schools, including Poppy's, St Nicholas Primary at Hurst, three years ago.
"I loved hearing the bagpipes — and they let us have a go," said Poppy.
Poppy is one of three youth section members at her current school, Ranelagh at Bracknell.
Last year the youth band played at the Birmingham Lest We Forget concert marking the end of World War I. The band practices at St Andrew's United Reformed Church in Reading.
Hurst Show on June 29 and 30 includes a new Discovery Trail to search out fun facts. Arena events include search and rescue dogs and birds of prey. There will be a fun dog show, classic vehicles, an art show, food, craft, gift and plant stalls. On Sunday visitors can bring up to four items to be valued at an Antiques Valuation. There will be beer, BBQ, and tea tents.
Children can also enjoy giant tugs of war, pony rides, hobby horse jumping, a bouncy castle, meet visiting animals and also face painting.
---
Other news ...